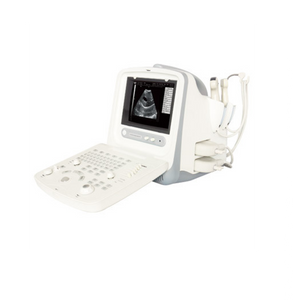 Used Chison 8300
Used Chison 8300 is in great working condition with a full warranty. Chison 8300 is a portable ultrasound machine widely used by physicians in various clinical environments. Chison ultrasound is applied in numerous applications such as gynecology, cardiology, abdominal, obstetrics, urology and small parts. With specially designed probes the user can capture superior quality images with the help of this Chison ultrasound machine. From KeeboMed Inc., you can purchase high quality Chison 8300 at affordable price range.
Chison ultrasound 8300 uses scanning methods such as electronic micro-convex, electronic convex and electronic linear. With 10 inch SVGA high resolution monitor, you can be rest assured to get quality images. Some features of this Chison ultrasound machine are general software packages for multiple applications, Harmonic imaging, VHSI, Compound imaging, Real-time dynamic imaging: RDA, RDA, DFS, DRA, in standard probe connector, 256 frames, built-in memory, 256 level gray scale, patient information management etc.
If Chison 8300 is the ultrasound machine that suits your requirements, then call KeeboMed for excellent quality products. For limited budget, we also offer some amazing financing options.
DIGITAL PORTABLE ULTRASOUND CHISON 8300 supplied with 10″ SVGA monitor and 2 probes connectors, CINE memory, 2 USB ports, software packages. Without probes. Professional portable ecograph with wide range of probes and high quality of images suitable in many specialistic fields.
Image:
– B, B/B, 4B, M, B/M
– Harmonic imaging
– 256 gray scales
– Scanning depth: max 240 mm (depending on probe)
Probes: supplied with 2 probe connectors
– Selection of 5 probes: Electronic Convex / Linear/ Transvaginal / Transrectal / Cardiac
– Wideband multi-frequency 2-9 MHz
Image processing:
– Fully digital beamforming technology
– Real-time dynamic imaging: RDF, RDA, DFS, DRA
– Frame averaging: 8 steps
– Linear averaging: 8 steps
– 6 STC slides for near far and overall gain control
– Image reversing: left/right, up/down
– Zoom: intelligent zoom, 4 steps
Measurement and report:
– B mode: Distance, circumference, area, volume,ratio, angle, %stenosis, histogram, profile
– Cardiology package: LV, mitral and aortic valve, CO, LVET, MVCF, SV, EF, cardiac index
– Software package: Abdomen, OB/GYN, Cardiac, Urology
– M mode: distance, time, velocity, heart rate
– EDD tables, gestational age: BPD, GS, CRL, FL, HC, AC
– Fetal weight, fetal heart measurement, growth analysis, LMP, BBT
Others:
– CINE: 128 frames, play back selectable
– 10 inch, SVGA high resolution monitor
– image permanent storage: hard disk, USB (2 ports)
– can use PC printer (A4) or video printer
– Operating voltage 110V-220V, 50-60Hz
Technical Specifications
• Power supply: 230V-50Hz (110V-60Hz on request)
• Two USB ports
• Two probe connectors
• Back-light keyboard for better visibility in dark room
• Optional printer
• Fully portable, ergonomic design
• Powerfull software: Report templates: NORMAL, OB, GYN, UROLOGY, CARDIAC